This article introduces new way for the home hobbyiest to apply a wood grained finish to metal car parts. For the method used by this web site's author, see Woodgraining Using Printer's Ink.

Faux Wood Burl Walnut
by Tom Poulter (UK)
Reasons for doing it this way
This method has been developed by a restorer enthusiast working on a tight budget that wanted the end result to look correct, and last a reasonable length of time without having to lay out a chunk of money on special equipment that may only be used once. Having looked into costs of having the work done professionally and the fact that the vehicle had a fixed dash panel so there would be the added cost of transporting back and forth. The other option was to purchase a kit which in itself required special skills to get the right result, and perhaps still finish up having to put the out to a professional.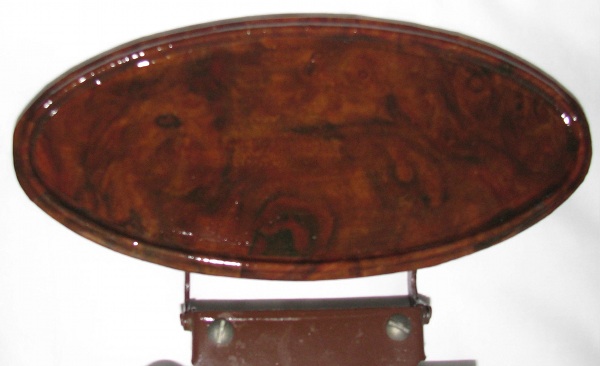 Faux wood without breaking the Bank
You will need:
Your panels, covers and garnishes will need to be sound, clean and painted either in primer or flat colour, lightly sanded to give a good base.
800 and 1200 grit wet and dry, the course paper is used in the initial preparation and the fine is used prior to the last part of the process.
Good quality PVA adhesive
Brushes for, spreading glue, a small stipple brush ½" should be sufficient, one to apply varnish (1/2"- 1") depending on what you are comfortable with and the size of your panels.
Good quality varnish with a UV stabiliser, I used Diamond Hard floor varnish which is a water based product, quick drying, comes in various shades and the brush can be cleaned in water and detergent. My choice of shades were clear and light oak but other shades might be better for your application.
Auto body spray lacquer, DIY Aerosol cans worked for me, 3 x 500ml for a 2 door Coupe, (as a guide only).
Scissors, craft knife, steel rule, pencil and if possible a paper guillotine.
You will need to find a photo image of the style of you wood grain, printable in A4 or A3 format along with a source of Laser printer with repeatable quality.
Tips
Basically this process is to cover the panel with photo images of your pattern, you can get away with some overlap as little as possible but bear in mind that your print will shrink slightly and you do not want to finish with a gap.
When the glue is applied to the back of the image it will stretch/expand slightly, this will work in your favour making the paper slightly more supple to go around curves, but you may need to locally cut and overlap or splice an extra piece in.
The overlaps will be smoothed out by multiple layers of varnish prior to final light sanding.
Your image file will need to be mirrored so that you have left and right hand versions of the prints, this will give symmetry when working out from the centre.

The image above shows the symmetry of using mirrored images, either side of the centre oval cut-out can be seen 2 darker spots, these spots are on different pieces of paper. Should you look closer 3 of one hand and 3 of the opposite hand are used across the dash panel.
An idea to consider is when you have your image files, put them on a memory stick, then go along to you public library or community centre and if they have a laser printer get them to copy the files for you. While developing the method a home ink jet printer was tried, the quality of the paper used at the library was better, also ink jet will trend to bleed through the paper when the glue is applied. Should you decide to use a print shop make sure you have a feel for the cost as prices vary considerably, as a guide a 2 door 5 window coupe used 8 to 10 of each hand in A4 format.
Images
Many images are available through various sources, sometime you may have to search hard for a particular style, even fish scales and snake skin, choice is unlimited and not restricted to motor vehicles.
How to apply


Where the part is curved it may be necessary to make the image hour glass shape but as before keep the pieces as big as possible. It should be remembered that this is a time consuming process that costs very little and should you need to repair a section in the future you will have the experience.
It is suggested that once the part is completed it should be stored for a couple of days to dry out before moving on to the next stage.
Now it's time to move up a level. Varnish, it should be considered that your choice will affect the final appearance, during the trials light oak gave a very light tint, where dark oak was very dark. The demister panel photo at the top was coated with 4 layers of clear and 6 of light oak. It's almost impossible to reproduce the shades correctly, all the parts shown here are from the same car. Ten layers of varnish was found sufficient to hide the overlap sections but make sure each layer is dry before applying another.
Final prep. Take the 1200 wet and dry, you should use it wet, carefully rub the overlap sections first keeping a watchful on what's happening, the purpose is to remove the imperfection in the surface, you may not get the surface perfectly flat. When you are happy with the joins, rub over the rest of the part, immerse the wet and dry regularly. Remove the white film deposit which will be left from rubbing down.
Lacquer. With plenty of fresh air the parts should be sprayed with 2 coats of clear lacquer which will give a pleasing professional finish.
Typical parts Covered by this Method