Rear Axle Oil Seal Repair
Plymouth used a common approach to sealing axles from 1928 through about 1942. While reasonably straight forward it is different enough from modern vehicles that I thought a write up would be useful.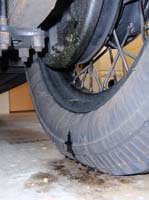 You will know that you have a seal issue when you notice gear lubricant dripping down the inside of your rear tire. There are actually two seals:
A felt "oil washer assembly" located on the inside of the bearings. This is to keep the gear lubricant from washing out the grease on the bearings.
A "oil seal assembly" that is supposed to keep the wheel bearing grease from escaping into the brake drum. This seal is made of leather.
In this case we are getting gear lubricant leaking out of the joint between the axle housing and the brake backing plate. This indicates that either insufficient grease was kept on the bearings or that the inner seal has failed and the grease is being washed out. Since the inner seal is not available, we will simply be sure to grease the rear bearing at regular intervals. But we will fix the leak into the brakes.
The Procedure